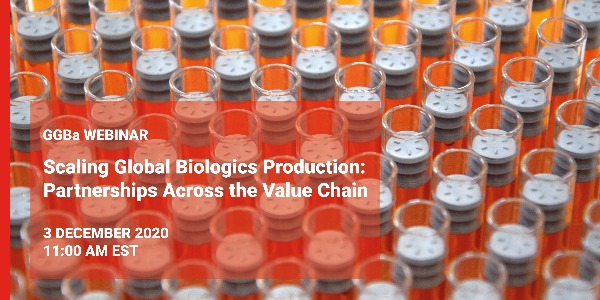 WEBINAR
Subject : Scaling global biologics production : partnerships across the value chain
Thursday, December 3, 2020
at 5 pm
Demand for biologics manufacturing is rising faster than capacity growth. This outsized demand has only increased with dozens of COVID-19 vaccines currently in development.
Europe will possess the world's largest biologics manufacturing capacity in the next four years and Western Switzerland is poised as a leader in cutting-edge biologics production, helping to meet demand to produce innovative therapies to treat cancer, genetic and neurodegenerative diseases.
Global biotech companies developing mAbs, vaccines, and gene and cell therapies face increasing challenges to meet their manufacturing needs. This one-hour webinar will explore the benefits of establishing partnerships to address this market gap across the value chain. Over the past decade, CDMOs have evolved from pure contract manufacturers to true partners throughout the drug development process.
We will discuss opportunities for public-private partnership with the Swiss Biotech Center for clinical batches during development, partnering for large scale production with CDMOs like Lonza, and benefitting from fill finish services with providers such as Swissfillon. The webinar will address cost comparison for partnership vs. in-house production and explain the high level contract conditions, tech transfer timing, and the duration for capacity reservations for production.
Panel discussion will include :
This webinar will be delivered via Zoom. Please follow the link that comes in the confirmation email from Eventbrite.
>> GET REGISTERED ON EVENTBRITE <<
With the support of :