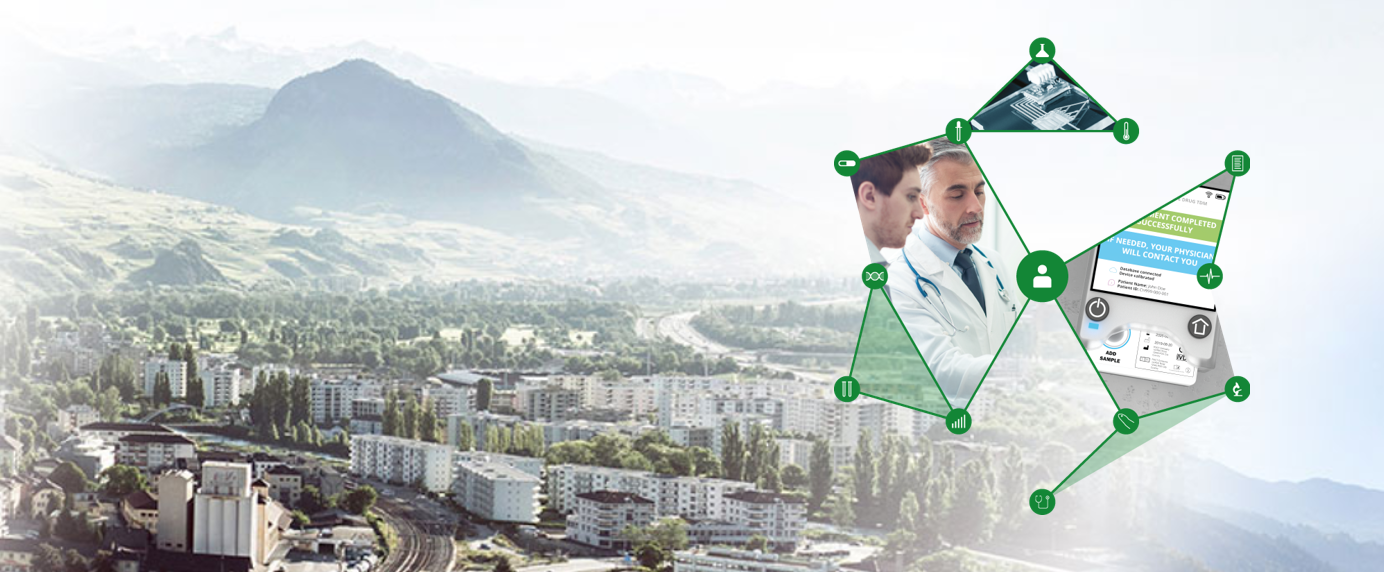 SBC participates in the 3rd edition of the Swiss Symposium "Point-of-care Diagnostics"
Important personalities of the medical and technological world, currently engaged in the field to fight and protect themselves against Covid-19, will speak on October 29th at the Swiss Symposium in Point-of-Care Diagnostics in which Swiss Biotech Center will participate. Organized in Visp, by the HES-SO Valais/Wallis and the CSEM, this first-rate event will provide an opportunity to take stock of the latest developments in coronavirus diagnostic tests. But not only that. Registration is now open.
With the Covid-19 pandemic, the "point-of-care" diagnosis or, in French, "au lieu de l'intervention", has taken on a new dimension. It is no longer just a tool offering doctors the opportunity for immediate treatment with the patient, but also an indispensable ally in tracking and tracing an invisible and potentially deadly enemy within our communities and undermining our economies.
On October 29th at the Visp Congress Center, renowned speakers will participate in the 3rd edition of the Swiss Symposium in Point-of-Care Diagnostics. A majority of the speakers announced are actively involved on the front lines of the health crisis caused by the coronavirus. They are developing new products, new technologies or acting in the field with patients.
Roche, MIT and Hôpital du Valais
These include Matthias Essenpreis, CTO of Roche Diagnostics. This Basel-based company is the first to have been able to approve a Covid-19 test with the American health authorities. Dr. Jonathan S. Gootenberg and Dr. Omar O. Abudayyeh, co-founders of Sherlock Biosciences and researchers at the Massachusetts Institute of Technology (MIT) will also be present in Visp. They are currently working on the CRISPR-Cas molecular scissor technology, which will allow the development of a new rapid test for the detection of Covid-19 by an RNA test.
Closer to us, Dr. Michel F. Rossier, Member of the Management and Head of Laboratories of the Valais Hospital will present his experiences in the management of this crisis. He has been on the front line since the first moments with the laboratory teams of the Central Institute of Valais Hospitals.
Exhibition space for companies
This international event is organized by the HES-SO Valais/Wallis and the CSEM in partnership with the Hôpital du Valais, Biotechnet, Swiss Biotech Association and The Ark Foundation. It will be an opportunity to discover new technologies and new products that can meet medical needs and deal with future epidemics, beyond SARS-CoV-2! The conferences will be held in English. An "exhibition" area is planned for Valaisan, Swiss and international companies.
This 3rd edition is part of the commitment of the HES-SO Valais/Wallis, through its regional development axes, to provide answers and rapid and concrete support to needs and to identify the consequences of the current crisis in order to better manage them in the future.
We look forward to meeting you there !
Discover the program and register on: www.pocdx.ch